Here are the top five quotes from the PM's speech:
Personally, it has been my fortune that I have seen you closely in different roles. I also had the fortune to work with you in some of those roles. Be it your ideological commitment as a party worker, your work as an MLA, your activity in the House as an MP, your leadership as the party chief, your hard work in the cabinet, or your grace as the VP & RS Chairman – I have seen you working devotedly in all your roles. You never considered any work a burden.
As our vice president, you devoted a lot of time to youth welfare. A lot of your programmes were focused on Yuva Shakti.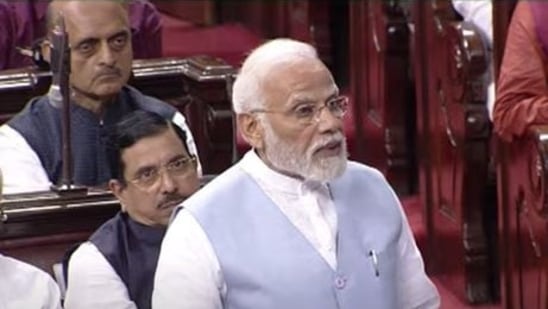 READ –
There is depth and substance in what Venkaiah Naidu ji says.
One of the admirable things about Venkaiah Naidu ji is his passion for Indian languages. This was reflected in the way he presided over the House. He contributed to the productivity of the Rajya Sabha.
Your disposable pads are funny pads. They are also winners. It means that nothing more needs to be said after these lines. Your every word is heard, preferred and revered and never resisted.
Rajya Sabha bids farewell to Speaker and Vice President Venkaiah Naidu. The Prime Minister led a farewell to Naidu in the Upper House of Parliament. Calling it an emotional moment for the house, the Prime Minister said that Naidu's service in the Rajya Sabha may be coming to an end, but his legacy will live with the country forever.
He even said that every word of Naidu is heard, preferred, worshiped and never opposed. The Rajya Sabha Speaker broke down in tears as the members of the house bid him farewell. Venkaiah Naidu steps down from office on August 10 and his successor Jagdeep Dhankhar takes oath on August 11. Learn more in this report.